I could tell you all about our house plans…. but really it's much easier to show. If you click on the link it will take you to the website that has the floor plans, as well as a "gallery" of images you can look through if you're so inclined.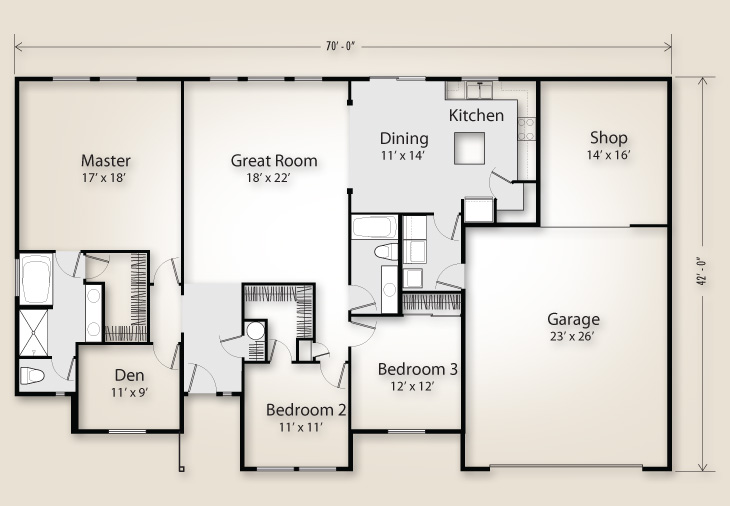 We will have wood floors throughout the entry, great room, dining room, and kitchen.  The master bedroom will be used as a 2nd living space and for a home school room, and the walk in closet will be used as extra storage – woohoo!  The den will be the boy's bedroom and bdrm 3 will be the girl's.  Our sleeping abode is  bdrm 2 (with a walk in closet – yay!).  In the corner of the kitchen (opposite the sink) there is a pantry – *squeee*!!  The laundry/mud room has a sink in which the boy can fit.  I'm picturing him coming in from rolling in the dirt/mud (how else do you get THAT dirty?!?), taking off his clothes and putting them directly into the laundry and basically bathing in the utility sink.
We are using Adair to build our house.  They build (what seems to us and builder friends we know) high quality stick built houses (not pre-fab houses or "kits").  As the owners, we are responsible to get the site ready.  Then there are a few things that we are responsible for during the actual build process, such as painting exterior/interior walls, general clean up, and drying out the interior.  I don't want to end up sounding like a commercial but I loved their mission and core values.  I especially liked the core value about honesty and integrity being part of every transaction.  Since we chose them, we have been impressed at every interaction.  They have consistently given us good estimates for our site development cost (often doing what we would choose – in giving us a number slightly above what's it's likely to cost "just in case")  They've shown great initiative by calling the county and our insurance as needed.
We felt even better about Adair after learning our excavator built an Adair home and our mobile home demolisher has built two Adair homes.  Like I said before, I knew I'd end up sounding like an ad for Adair – I don't mean to, but we've been really pleased so far.  We have a long ways to go and I'll know more as we continue on but for now, it's been great.